California
(From North to South)

Greenberg House Concerts: The focus is on Celtic and English music at this series. This house concert in Berkeley has been going on for over 11 years.

San Francisco HouseConcerts: Music from traditional folk to alternative. Their website is also a great source for other house concert and small venue music in the Bay Area.

Brask House Concerts: House concerts in San Jose and at the Mission Coffee Roasting Company in Fremont for almost 10 years. The Brasks also commit a great deal of time to charity fund raising focused around music.

Russ & Julie's House Concerts: Having just celebrated their 10th anniversary hosting house concerts, Russ & Julie's series in Oak Park is home to many of Southern California's favorite folk artists. Through their personal work and the Far-West Folk Alliance they have served as trusted mentors to the California house concert community.

The Coffee Gallery Backstage: Live folk and Americana music 3-5 nights a week in Altadena. The Golden Bear is gone. The Ice House is all comedy. The Troubadour has forgotten what acoustic music is. So all LA has now is this, The Boulevard and McCabe's.

Living Tradition: A non-profit organization working to support and preserve traditional music and dance. Concerts on the 3rd Saturday of each month at the Anaheim Downtown Community Center.

Dark-Thirty House Concerts: In Lakeside, California; these house concerts are famous for the included dinner and dessert. Also called "Jimmy Duke's", you may find an artist booked here that never plays house concerts! Dark-Thirty is so highly regarded that John Stewart and others have recorded full albums here.


SLOFolks:
The San Luis Obispo Folk Music Society featuring indoor and outdoor folk music concerts in San Luis Obispo, Morro Bay, Atascadero and Paso Robles year-round. Always worth seeing!

Last Stage West:
Roadhouse dinning and live music on Highway 41, halfway between Morro Bay and Atascadero.

Painted Sky Studios:
Concerts in a world-class recording studio in Harmony, CA (just south of Cambria). Diverse sounds worth the drive.

KCBX Public Radio:
The best music from Carpinteria to Paso Robles. Music of the World's People with Jim Dee, Sundays 9:00 to 11:00 PM; Pickin' Up the Tempo with Little Robby Kimball, Tuesdays 8:00 to 10:00 PM; Basically Bluegrass, Thursdays 8:00 to 10:00 PM; and Broken Spoke Folk Show with Janelle Younger, Saturdays 2:00 to 5:00 PM. Plus Blues, news and more all the time. Streaming on the web 24/7.

The Live Oak Music Festival:
The best 3 days of live music and camping every Father's Day weekend near Lake Cachuma. A loving production of KCBX Public Radio.

Tree House Concerts:
Our nearest house concert neighbor to the north in Carmel Valley. Greg & Juliet put on the best musical house party in Monterey County.

Tales From the Tavern:
In the Santa Ynez Valley, these folks host artists that you already love or should get to know very soon. In smaller clubs, taverns and tasting rooms throughout the valley, they bring us world-class folk artists and singer/songwriters.

BlueGrass West!:
For over 16 years Peter Feldmann has been at the helm of BlueGrass West. Offering, presenting, supporting and teaching traditional American Bluegrass Music in the Santa Ynez Valley, Santa Barbara and points beyond.

Trinity Backstage Coffee House:
Live music in a real coffee house in Santa Barbara.

Otter Productions:
The best large venue music productions on the Central Coast. Artists we never thought we would see locally, just appear out of nowhere for these folks.
House Concerts:

This site, provided by Flowers In The Desert house concert series in Brenham/Chappell Hill, Texas is an extensive lists of North American house concerts. With links and phone numbers, you can find a house concert nearby whenever you are away from home.
A directory of over 400 house concert presenters throughout the United States. Also a directory of many established, new and upcoming artists interesting in being considered for house concert performances.




The Western Regional Chapter
of the Folk Alliance




The North American Folk Music
and
Dance Alliance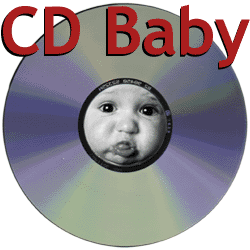 CD Baby sells only independently produced CDs from independent artists. They return a higher percentage of the selling price directly to the artist than any other retailer of music.