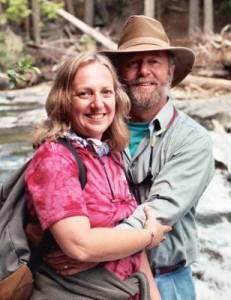 We are Sharon and Fred Munroe living in Atascadero California. The two of us met many years ago while volunteering at the Live Oak Music Festival presented by KCBX Public Radio. For many years we shared the responsibilities of Site Coordinator for this 4,000-attendee festival held every Father's Day weekend, just north of Santa Barbara before retiring from those duties in 2010.

We have been life partners for almost 16 years, and have been married since August 12, 2006 after Sharon got tired of listening to Fred beg. The four children we have between us; David, Gwen, Emily and Valrah; have also been volunteers at Live Oak and share our love of music.

Obviously, our most common interest has been music since we first met. Sharon is an accomplished flutist and vocalist. Along with her love of music, she loves to spend a lot of her personal time making sure her children and her community find joy in song. Sharon has recently retired from teaching middle-school mathematics in Paso Robles, California.

Fred hosts Central Coast Voices on KCBX Public Radio every Thursday afternoon at 1:00pm. Central Coast Voices look at our local society, the challenges we face and how we are effected by everyday changes. He alternates weeks with co-host, Kris Kington-Barker.

Fred has made up for his inability to ever successfully learn to play any of the many instruments he has tried by spending a great deal of his personal time voluntarily promoting live music and community events. This has included the Stone Soup Music Faire in Grover Beach, CA and Live Oak. Fred is a travel writer for both trade publications and newspapers along with being a travel advisor. He also designs training programs for public transit organizations to assist new users of public transit. His companies, Travel With Fred and Ridership Development Consultants, underwrite this website and this house concert series.

Interestingly enough, for the 40 plus years before we met, we shared a very similar view about the intimacy of live music and theatre. Three concerts seen from the back of the house cannot replace one seen from the front. This is one of the reasons why we have focused our volunteer energy on music festivals, street fairs and community events. You will seldom find us at any venue larger than the PAC, The Clark Center or the Santa Barbara County Bowl. You will often find us at The Red Barn, The Last Stage West, Castoro Cellars, SLO Folks and any event sponsored by KCBX Public Radio.

We do not profit financially from Música Del Rio. It is actually a rather expensive hobby, worth every nickel invested. We must admit that the quality of musician we see and listen to in our living room has gotten better now that 40-60 friends share in the cost by making a donation directly to the performers.

Música Del Rio grew out of a desire to open our home to friends who love live music as much as we do. We also realized that music shared in smaller venues was usually limited to bars and lounges. As we learned more about house concerts, it became clear that we were ready to start Música Del Rio. As we roll through our fourteenth season of Música Del Rio, please know that all you need to be part of this community is a few free Friday or Saturday nights and a spot on our invitation list with your name on it. We hope to see you soon.